Experience the Show – 2020 Information
NEW 2020 Cars, Trucks and SUVs
Research, compare, and dream to your heart's content with over 150 new model cars, trucks, SUVS and alternative fuel vehicles – all under one roof. Speak with manufacturer & dealer representatives about vehicle features & specifics in this non-selling, low pressure environment where consumers are free to kick tires, look under the hood, and even sniff that new car smell.
See Motor Trend's Car, Truck, and SUV Of The Year: TBD based on manufacturer availability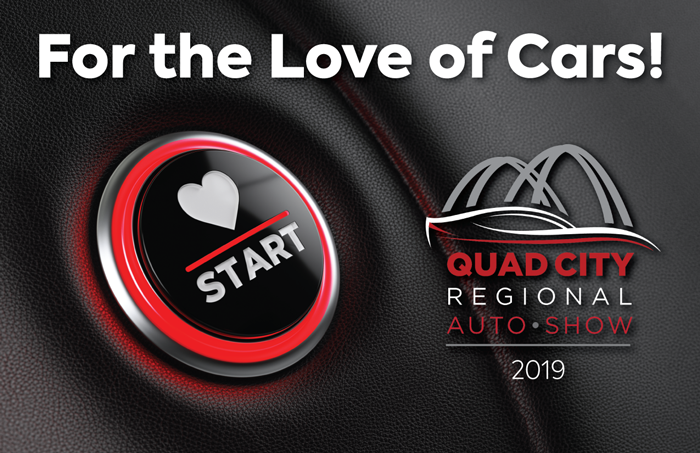 KISS 101.3 Family Day Sunday
iHeart Media providing the following events in the Kids Zone for Family Day:
Appearance of Niabi Zoo Animals
Coloring Contest with prizes for different age groups
Therapy Dogs on display
Balloon animals and face-painting
Magic Show
Cookies and Milk

Discount Coupons/Promotions
Employee Appreciation Days – Dealership employees will receive an auto show ticket that will be distributed by the individual dealerships to their employees. Valid all show days.
Quad-City Times Day – FREE admission with QCT newspaper coupon, valid Friday only.
Attendee Promotion Passes – Valid for ONE complimentary admission on Friday, OR present to purchase ONE discounted $6 ticket on Saturday or Sunday. Not valid with any other offer.
Participating distribution outlets: Hy-Vee
E-Tickets – E-tickets may be purchased and downloaded from the official auto show web site: www.QuadCityAutoShow.com. E-ticket holders can avoid waiting in box office ticket lines by using the E-ticket entrance at the show. Adult E-tickets are discounted $1 each, for a price of $7.